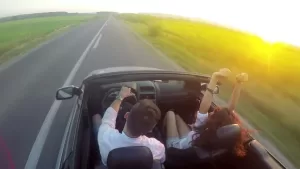 Adults are not the only ones who make mistakes that injure others. In fact, teenage drivers are responsible for an outsized share of motor vehicle accidents. Unfortunately, their inexperience with the road, combined with poor judgement often leads to dangerous crashes that affect and injure third parties. In these cases, because drivers under the age of 19 are not legal adults, pursuing a personal injury claim can be different from one involving another adult. Our attorneys at Ray Padilla Law, APC explain the complexities of personal injury claims involving minor drivers.
High Risk Drivers
Even the most careful of teen drivers are at higher risk of being involved in a car crash, simply because they lack substantial experience behind the wheel. Data from the CDC reveals that drivers under the age of 20 are nearly three times as likely to be involved in a fatal car crash, with over 20% of 16-year-olds causing car crashes in their first year of driving alone.
Studies show that in general, teen drivers are more likely to engage in dangerous driving activities while behind the wheel. The most common including using a cellphone or other electronic device, driving recklessly, driving distracted by other teen passengers, or driving while under the influence of drugs/alcohol.
California Responsibility Laws
The state of California, car insurance companies, and parents are aware that teenage drivers are at a higher risk of causing car crash. Thus, there are laws and policies in place to ensure that in the case of a crash caused by a minor, the injured party has an avenue to make a claim and recover damages.
In California, when a minor teen driver is the at-fault party of an accident, not only is the teen held liable, but their parent/guardian as well. California vehicle code 17707  makes parents/guardians and their children joint and severally liable for the injuries and damages caused by a minor in a car crash. This allows the injured party to make a claim against the teen, their parents, or both. Due to these strict responsibility laws, parents/guardians oftentimes add their teenage driver to their existing car insurance policy to prevent personal exposure.
Although this avenue for personal responsibility is available, in most cases, Personal Injury Attorneys resort to investigating whether the teen was covered by valid car insurance at the time of the crash first. In California, the insurance coverage follows the vehicle, not the driver. Therefore, even when a teen driver is not named on a car insurance policy, if permission was given by the vehicle owner for the individual to drive, the policy coverage will extend to them. This extension of coverage applies across the board, . In this case, a claim can be made against the car insurance for the vehicle driven at the time of the crash and would proceed as normal.
Call Today for a Free Consultation
If you have been involved in a car crash with an at-fault teen driver, you may want the help of an experienced car crash attorney. Let us discuss your legal options in a free consultation. If you have a valid claim, we are ready to conduct an investigation and help you determine the best course of action. Our law office is ready to help, contact Ray Padilla Law, APC today at (619) 431-1187 (San Diego) to speak with Attorney Ray Padilla directly.  Please call even if it's simply to ask, "what should I do?"
Please feel free to explore the many other articles on this website to learn more.
https://raypadillalaw.com/wp-content/uploads/2022/05/1.webp
480
852
admin
https://raypadillalaw.com/wp-content/uploads/2021/08/rayPadillaLaw_logo-300x129.png
admin
2022-05-11 23:34:57
2022-05-11 23:34:57
I was in a Car Crash Caused by a Minor, What Can I Do?